Browsing articles in "Space"
Because everyone needs more moustache in their lives, right? 
I can't wait to visit with Commander Hadfield via the International Space Station this Thursday at the Canadian Space Agency Day in the Life of Chris Hadfield CSATweetup.  There's even a phone call with William Shatner.  We'll also hear from CSA scientists and investigators and Astronaut Jeremy Hansen (@astro_jeremy)
There may be photos and tweets.  Set your filters to stun.
Today Chris Hadfield of the Canadian Space Agency talked from the International Space Station to students at Chris Hadfield Public School in Milton, ON.  One of the questions was "How can I become an astronaut?".    In answering this question, Hadfield addressed career aspirations in general:
"The things I'm doing now, it's because I started working at it when I was your age."

"Decide what you might want to be and then start turning yourself into that person."

"You can start to turn yourself into an astronaut today. It doesn't happen just like that, but every single decision you make turns you a little bit into the person you want to be tomorrow and the day after that…"

"You have to turn yourself into who you want to be."
By the way, the kids certainly did prepare for the event: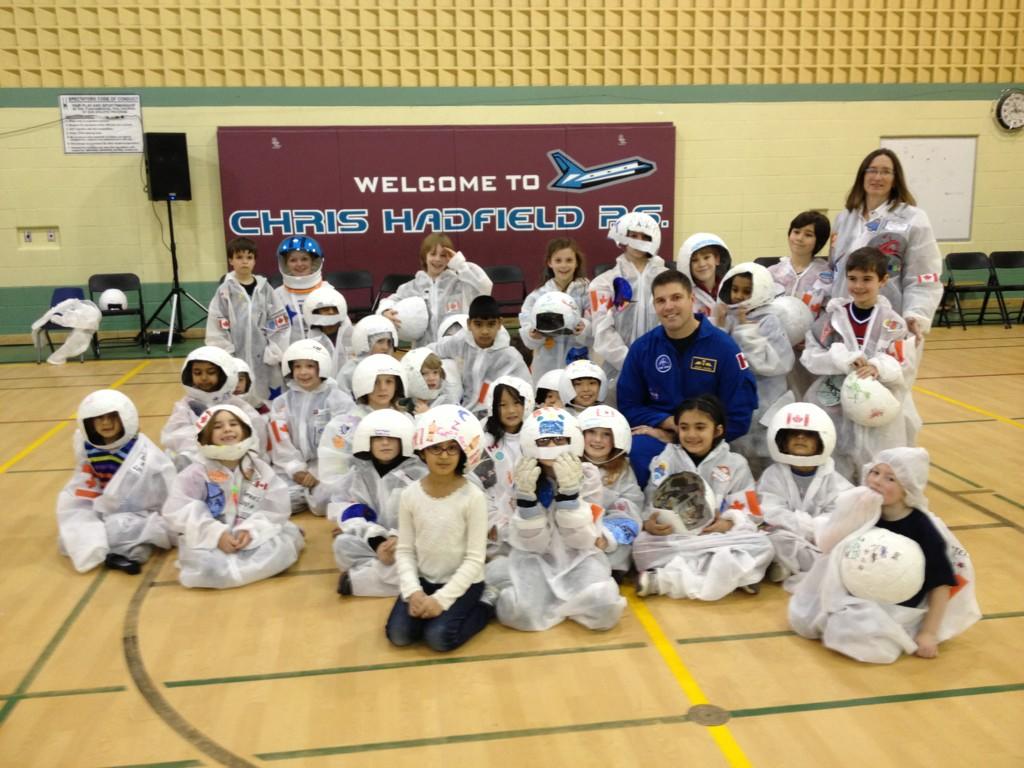 Chris Hadfield talks to Chris Hadfield Public School.
By the way, the CAPCOM for today was Astronaut Clay Anderson, who is retiring after 30 years of service to NASA.
I thought Cdmr. Hadfield's answers were pretty good advice for the kids.  And for us.  What are you doing today that will turn you into the person you want to be?
It's Friday again (we should have more of these) and I'm in the mood for a contest. I have some mystery prizes, more than just swag, to give away. But I'm not saying what it is until the contest is over. Let's just say it will have data stuff, space stuff, and for certain one of those secret Canadian keychain bottler openers. The value of the prize will be approximately $100… CANADIAN!!!!…which I think now is close to $100 million dollars USD.
How Many TLAs can you fit in a sentence?
Your challenge is to make a grammatically-correct sentence that is dominated with TLAs. What's a TLA? Why it's a Three Letter Acronym, of course. But we're going to be flexible. You can use acronyms or initialisms and you aren't limited to three letter ones. You can also tack on verb endings and such. So things like RBARing, LOSed and SSDTed are fine. We'll have a group of prestigious fun judges to evaluate your submissions based on these guidelines:
Length of sentence
Length of TLAs
Higher ratio of TLAs to "real" words – in fact, I want to see very few real words
Higher weight given to non-product TLAs
Originality is a real plus
Higher weight given to a good mix of TLA "domains". If you can work in textspeak, space, tech, music, literature, arts and crafts, cycling and knitting, then you're golden.
The more snark the better.
Your TLAs should be commonly known or easily to lookup. If we can't figure out what it means, you'll lose points.
Examples
I REd a CRM DB to get the DDL for the CASE tool, FTW.
OK, my C4ISTAR PM FUBBARed* my PLoA due to a SNAFU* with a SME's PEBCAK bug.
NASA SCUBA SMEs are NEEMO FTEs, AFAIK.
The Rules
Entries accepted from locations where these sorts of contests are legal. Check with local authorities. If you are unable to accept the prize for a corporate or government restriction, just let us know. We'd still love to honour your work. Canadian residents must solve a particularly silly mathematical question. Study up on square roots and factorials. But they won't be in the question.
Decisions of the judges are final.
You must be 13 years of age or older to enter.
You agree to let us publish your entries, but you get to keep ownership of them. We are nice like that.
Your sentence must be an original creation, by you.
No explicit, illegal or shameful content. Yes, I know some of you are disappointed.
Contest closes on 29 October 2012, 2 November 2012 at midnight my time, wherever I am at that time.
* UPDATE * I've just received some new swag from vendors, so I'm extending the deadline for this contest. We will now have 3 prizes to give away. *
Taxes, customs, duties and any other silly mandated stuff that makes it less fun to win are the responsibility of the recipient.
*The TLA example above has alternate, family-friendly definitions. I looked them up. Trust me.
How to Enter
Leave your entry here as a comment. Yes, you can enter more than once…let's say no more than 4 entries per person. Yes, you'll have to use a method to post that allows us to contact you to arrange for the major award. You can submit anonymously, but no prize for you.
The Judges
Denny Cherry (@mrdenny | blog ) Unofficial SQL PASS Party Planner and Trouble Maker
Joey D'Antoni (@jdanton | blog ) Biker, but not that kind, who architects on the side
Marco Frissen (@mfrissen | blog ) Opinionated space and tech geek. Token foreigner on this panel
Thomas LaRock (@sqlrockstar |blog ) DBA, Happymaker, and bacon lover
Shannon Moore (@ageekmom | blog ) SpaceTweep Wrangler and cyclist extraordinaire
Karen Lopez (@datachick) Loves Space and Data. Almost the same. But Space Data is best. Another foreigner, sort of.
Recently @VenusBarbie visited Europe for the ILATweetup and SpaceUPEU events.  I wasn't able to go due to other commitments, so Rob had to take over escort duties for our traveling Astronaut Barbie (@venusbarbie | Technical Barbies on Facebook).  The truth of the matter is that we humans officially get the invites, but we know that it's really the space mascots that are wanted due to their celebrity status.  Rob also took along a 2D version of Commander Chris Hadfield (@cmdr_hadfield), AKA #Chris2D
I have some other photos to share, but the set I found most interesting were those with European Space Agency astronaut Paolo Nespoli showing Rob how to ensure that Barbie's hair is just right before a photo shoot:
I guess all that centrifuge training she did at the DLR comes in handy when she hangs with other astronauts.
Once VenusBarbie was set, then all four (Rob, Paolo, VenusBarbie and Chris2D) were ready to pose.
Good job, men.  And @VenusBarbie.
If you think about it, each of your role models had role models to guide them. I know many men and women for whom Sally Ride showed them the way. Each of us carries with us the insight and inspiration that we saw in others. We are sharing what we saw in her with those that come after us.
Nichelle Nichols (@RealNichelle) shares her story of meeting Sally Ride after NASA engaged Nichelle to help recruit more minority candidates:
"She once thanked me for my recruitment efforts while under contract to NASA, saying "If it hadn't been for you I might not be here."
Nichelle inspired Sally and Sally inspired me (they both did, actually). Now I want to pass that along. That's why I spend time working to ensure that girls know that there are great jobs, rewarding careers, and fabulous opportunities in the STEM world.
What have you done, today, to inspire someone else?